There was a time when beauty only existed as a space for those identified as cis, white, and female. As gen zers step into areas that older generations have occupied for too long, the beauty industry is finally beginning to look like its consumers. Here are our favorite inclusive and fluid beauty brands.
Alder New York
Nina Zilka and David Krause founded Alder New York in 2016. Alder is a ​​queer and woman-owned independent skincare brand offering a full range of vegan products. The line covers every step of your skincare routine, regardless of gender or any other label. "Inclusivity is inherent to how David and I think about design. We are always trying to create the best possible, most effective product. That has nothing to do with someone's gender identity, race, age, etcetera," Zilka said in an interview last year. "So when we create a product, we're focused on the effects of the product and how it will make someone feel."
Shop: https://aldernewyork.com/
IG: @alder_new_york
Dragun Beauty
When YouTube star Nikita Dragun set out to create her own fluid beauty brand, she understood the unique power makeup could have on someone's life and confidence. In a sit down with Them, she discussed the importance of launching one of the first trans-owned beauty brands. "It was more of a transformation thing. I was using makeup to feminize my features and alter my face to present myself in the way I wanted. It wasn't about, 'Oh, I need to eyeshadow here and eyeshadow there.' It was survival." Dragun's initial 2019 launch featured two products — the Dragun Fire Skin-Perfecting Potion and the TRANSformation Powder — and sold out in a day. Since then, the brand has expanded to over 20 products that are all certified vegan and gluten-free.
Shop: https://dragunbeauty.com/
IG: @dragunbeauty
Non Gender Specific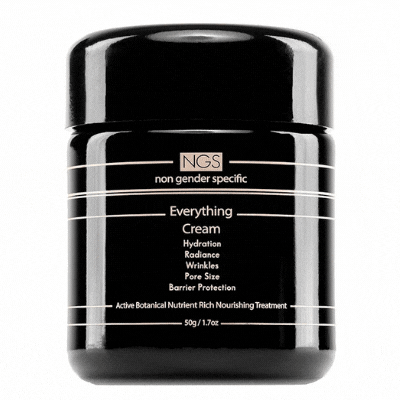 Called "the beauty brand for all humans," Non Gender Specific's sole intent is to live up to its motto. "After nearly a decade in beauty, I couldn't understand how a progressive industry that relies so heavily on innovation could be so backwards in who the products were being marketed to," founder Andrew Glass explained in an interview. Glass launched by Non Gender Specific in 2018. The vegan and cruelty-free fluid beauty brand offers a wide range of skincare products designed for multifunctional use. Its most popular product, Everything Serum, addresses all types of skin concerns, from wrinkles to hyperpigmentation.
Shop: https://www.nongenderspecific.com/
IG: @nongenderspecificofficial
NOTO Botanics
Gloria Noto's mission in starting NOTO Botanics wasn't just to create a skincare brand that reflected her approach to self-care but to offer more visibility to the underrepresented. NOTO's website boasts the founder's intent clearly, "launching NOTO quite literally in my kitchen, I became excited to use all of the skills I learned over the years to create a line that celebrated the identities I felt I wasn't seeing in the clean beauty industry." These values are essential to the brand's aesthetic and marketing. In addition, their Agender Oil is the brand's giveback product, benefiting charities like Planned Parenthood, LGBT Youth Center, and The Okra Project.
Shop: https://notobotanics.com/
IG: @noto_botanics
Trixie Cosmetics
Trixie Cosmetics was founded by RuPaul's Drag Race All-Stars winner Trixie Mattel. The line is the culmination of her experience as a drag superstar and her time working behind the scenes as a makeup artist. Trixie Cosmetics may feature bright, nostalgic packaging that mirrors the fun-loving personality of the brand's namesake, but Mattel's purpose is simple in its inclusivity: "drag queens and people, they want the same thing: we all want products that work well, that are priced well and are fun to apply."
Shop: https://www.trixiecosmetics.com/
IG: @trixiecosmetics
Volition Beauty
Brandy Hoffman and Patricia Santos founded Volition in 2016. The queer-owned beauty brand has a unique approach to community engagement. Together they launched Volition by combining the concept of crowdsourcing and the power of social media. Consumers submit their ideas for beauty products through the brand's website. Then, followers vote on which products they'd like to see developed and released. Finally, the winning products go on sale to shoppers. The immersive process is an indication of how Hoffman wants Volition to serve people on a broader scale, "we believe at our core that the only way to be an inclusive beauty brand is to start with their ideas and share in that. Our community, their needs, and their creativity are what drive our product development and ensures that an array of voices are represented."
Shop: https://volitionbeauty.com/
IG: @volitionbeauty
We Are Fluide
We Are Fluide is a Brooklyn-based, queer-owned beauty brand offering a full lineup of gender-neutral products from lip gloss to nail polish. Fluide's core tenant is to provide a fun and safe space for anyone wanting to explore. The brand's commitment to inclusivity is evident throughout its marketing and its racially and ethnically diverse staff. As co-founder Laura Kraber put it, the mission of Fluide is "to create a beautiful and intimate online universe where everyone is comfortable being themselves—to evolve the mainstream conception of 'beauty' while creating a space for people to express themselves authentically."
Shop: https://www.fluide.us/
IG: @fluidebeauty
If you want to explore the beauty industry and learn how to build your inclusive brand, check out Yellowbrick's Ultimate Beauty Career Guide.