How To Become An Apparel Graphic Designer
Career Profile, Salary & Job Outlook —
What does an Apparel Graphic Designer do?
Apparel Graphic Designers develop on-trend apparel graphics and patterns for garments, specifically for t-shirts, hoodies, crewneck sweatshirts, and outerwear. Their graphics, however, can extend to the use of headwear and accessories. In addition, they create, manage, and maintain tech packs while assisting the approval of garments in the production process. They gather trend research and material reference for concept and design meetings, having an extreme understanding of the streetwear market. They also thoroughly understand the screen printing process and are up to date with printing technologies and quality or types of blanks. Working alongside the Design department, an Apparel Graphic Designer works closely with roles such as the Creative Director, Apparel Designer, Accessory Designer, Headwear Designer, etc., who brings their strong illustration and type-design skills to the table.
How much does an Apparel Graphic Designer make?
According to Glassdoor, Apparel Graphic Designers make a national average of $52,498 or $25.24 an hour in 2022. In general, entry-level graphic designers make around $35,000 annually, with senior-level graphic designers making $78,000. This wide range depends on skill, seniority, company, and location factors.
What impact does this career have towards the streetwear industry?
Apparel Graphic Designers help give a brand voice and identity through their designs. They are tasked with creating on-trend or impactful graphics that reflect the brand and drive sales for every collection, season, or drop. Iconic designs like the Supreme Box Logo, iterations of the Adam Bomb, or even HUF's mid-aughts quintessential all-over leaf print are forever staples of streetwear brand stories.
What is the job outlook for an Apparel Graphic Designer?
Global apparel revenue is forecasted to grow to $2.25 trillion by 2025, with the streetwear market surpassing $185 billion by sales in 2020. According to the U.S. Bureau of Labor Statistics (BLS), job opportunities for graphic designers (including Apparel Graphic Designers) are expected to a three percent growth during the 2020-2030 decade.
How to kick-off your career:
Study your favorite apparel graphics every season.
Create a mood board, dissecting your favorite graphic design examples.
Read a book about type-design.
Download our Ultimate Streetwear Career Guide to understand the pathway into this career.
Interested in Designing Streetwear? Explore our Streetwear Essentials online course.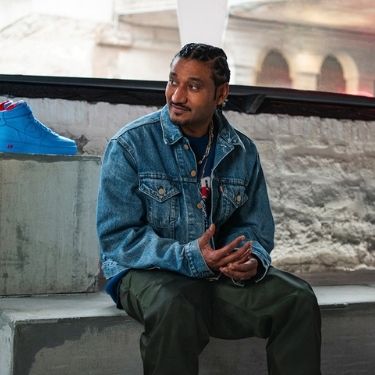 Learn from:
Don C
Streetwear Essentials contributor,
Founder & Designer at Just Don
Experiences: Chief Marketing Officer
Related Careers:
Apparel Designer | Creative Director