The fashion industry has long been held back by problems like a massive carbon footprint, pollution issues, lack of diversity, unregulated working conditions, and low wages. In an industry where antiquated attitudes continue to hold significant influence, questions still outnumber answers. Can fashion ever reach the level of sustainability it promises? Will controversy always surround fashion's treatment of its workforce?
In the summer of 2020, racial inequality dominated traditional and social media as protests erupted following the death of George Floyd. The renewed spotlight on social justice revealed that for as global the industry as it is, the decision-makers in fashion aren't an accurate representation of its consumers. However, with real systemic change lagging, some brands are finding a way to make the most of their platforms to spearhead the change they want to see.
Boyish Jeans
Where It's Making a Difference: Cruelty-Free Jeans, Fair Trade, Sustainability
One of the most prominent problems in the fashion industry is its longterm impact on the environment. Boyish Jeans is a women's denim line based in the United States. Founded by California native Jordan Nodarse, the brand boasts vegan jeans while utilizing recycled materials and recycled water. In addition, their manufacturing process is environmentally friendly and cruelty-free from start to finish. In 2020, Boyish diverted 591 pounds of waste from landfills and reported a carbon footprint of 1,073 metric tons.
The Classic T-Shirt Company
Where It's Making a Difference: Fair Trade, Sustainability
The Classic T-Shirt Company's founders, Paul and Olga Garibian, have committed to fair treatment of farmers and workers along their supply chain. The fair trade movement emphasizes safe working conditions, livable wages, community development, and respect for local culture. Sustainably made in the United States using organically sourced cotton, The Classic T-Shirt Company guarantees high quality t-shirts made ethically with a reduced carbon footprint. They also combat pollution industries by donating a portion of profits to safe water and ocean clean-up charities.
Clothes Without Limits
Where It's Making a Difference: Gender Fluid Clothing, Inclusivity
Who says little boys can't wear pink? Or that little girls can't like t-shirts with race cars on them? Certainly not Clothing Without Limits. Ten small businesses lead the campaign to alter the mindset that kids' clothing has to be gender-specific. More importantly, Clothing Without Limits wants to show kids that they're not confined to a single category or idea. "Kids, boys, and girls, are sent a message when they walk through clothing stores or when they see what other kids are wearing, and we think that by all of us doing our part, we can change that message and give kids more options," explained Rebecca Melsky, co-founder of Princess Awesome and one of the businesses behind Clothing Without Limits.
Fashion Revolution
Where It's Making a Difference: Fair Trade, Workers' Rights
In 2013, Rana Plaza collapsed in the Dhaka District of Bangladesh. The eight-story commercial property housed several garment factories. There were reports of cracks in the building's foundation in the days leading up to the collapse. Yet, workers were ordered to continue to report to work. The structural failure claimed 1,134 lives and left an additional 2,500 people injured. In the tragedy's wake, ​​Carry Somers and Orsola de Castro founded Fashion Revolution. The movement is securing livable wages and working conditions for workers worldwide. They hold events each year on the anniversary of the collapse, and their hashtag #WhoMadeMyClothes has forced fashion brands to be more transparent about their labor force.
Aaron Rose Phillip
Where They're Making a Difference: Anti-Ableism, Inclusivity, Trans Visibility
In 2018, Elite Modeling Agency signed Aaron Rose Philip, making her the first black, transgender, and physically disabled model represented by a major agency. Phillip has pushed fashion into the 21st century, demanding the industry reflect the world around her. "I realized there's no one I see on TV or online or in fashion, on the stage that I love, looking like me. And I knew that was a problem because I knew inherently, there was nothing wrong with me," she said in an interview with Paper. Since her signing, she's been featured in Dove, Nike, and Sephora campaigns and has been photographed for Allure, Elle, i-D, Paper, Vogue, and other high-profile fashion magazines.
Rothy's
Where It's Making a Difference: Sustainability
Founded in 2012 by Stephen Hawthornthwaite and Roth Martin, Rothy's specializes in using recycled materials. Their core thread — used in all of their products — is made from single-use water bottles to limit environmental impact. In addition, all of their products are machine washable and designed for maximum durability.
Savage X Fenty
Where It's Making a Difference: Body Positivity, Inclusivity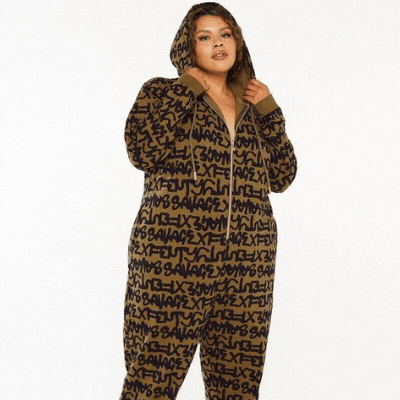 Rihanna isn't the first musician to venture into the world of fashion. However, her Savage X Fenty lingerie brand has set itself apart when it comes to diversity and inclusion. "We don't believe in division. We do not believe in excluding anyone," Rihanna explained ahead of The Savage X Fenty Show Volume 2. Whether it's new product launches or fashion shows, Savage X Fenty has made it a point to include models across the full spectrum of color, size, and ability.
Stephanie Yeboah
Where They're Making a Difference: Body Positivity
South-London-based author and public speaker Stephanie Yeboah has emerged as a staunch voice in self-love advocacy. Her debut book, Fattily Ever After: A Black Fat Girl's Guide to Living Life Unapologetically, analyzes the race and gender constraints of the body positivity movement. It's a refreshing exploration of how black, plus-sized women are still falling victim to the misogynoir ideals that are deeply rooted in mainstream beauty standards.
For more information about problems in the fashion industry and how to be a force for change, sign up for our newsletter or head over to Yellowbrick's Fashion Industry Essentials.