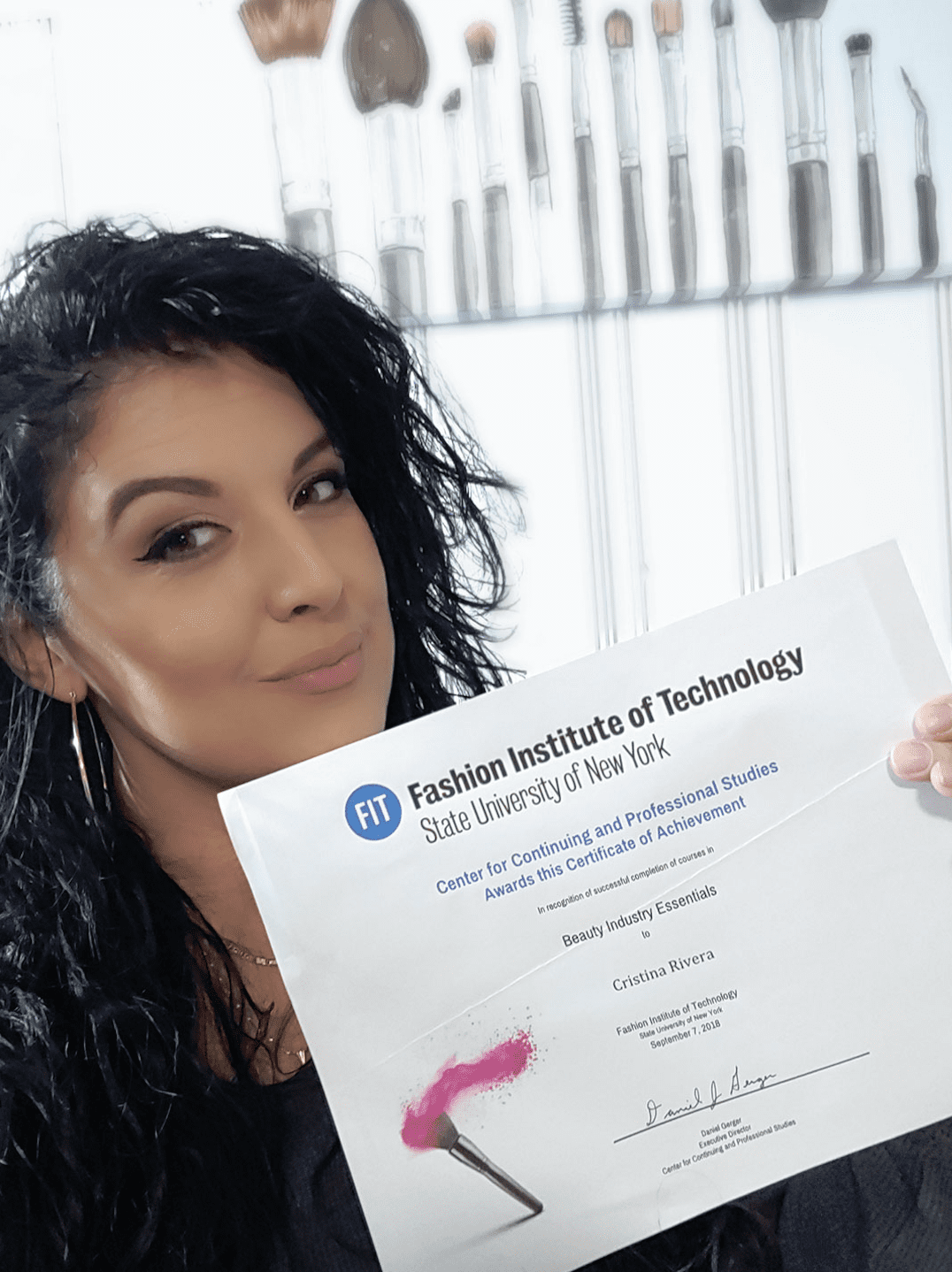 My name is Cristina Rivera and I took the Beauty Industry Essentials course 2 years ago. At that time, it wasn't called Yellowbrick Beauty, instead, it emphasized FIT Beauty Industry Essentials and the fact that it was partnered with Allure Magazine. Those two giants were what drew me in and I'm so happy I did it. 
I've been a makeup artist for over 20 years. I'm also a blogger and although I cater to brides, I write about all things beautiful. I love the world of makeup but I had this feeling that I was supposed to be doing something more, I just wasn't sure what. 
Taking the B.I.E. course I found myself wanting to not only implement what I was learning but also teach people what I learned. One of many things that stuck with me was when I learned about social media, online media and print media. These things went hand in hand in my mind and got my wheels turning. Though I can't put my finger on just one thing that was said, the complete course (testimonials and suggestions) filled me with the feeling that where I was, wasn't necessarily where I was meant to stay. 
What I mean is, it pushed me to expand my reach in the beauty world. After completing Beauty Industry Essentials and receiving my certificate I posted it everywhere! Shortly after posting my certificate, I received comments and messages from two other makeup artists here in upstate New York. Turns out, after seeing I had completed the course, they had questions. My resounding YES, as well as my reasoning behind why they should invest clearly had some weight as they both enrolled in the course and received their certificates too!
Since I was on that natural high of achievement, I decided to try and find courses that would teach me to be a better writer. I was eager to land a position as a contributing writer for a publication other than my blog. This would allow me to combine my love of beauty with writing and be able to teach others what I know. 
I took a writing course online from an instructor at Cambridge and received a certificate of completion. These two certificates gave me the courage to reach out to Latinista Magazine (www.Latinista.com) after seeing their listing, to be considered for a position as a contributing writer. I have been writing beauty articles as a Contributing Editor for them since January of 2019. 
Just after completing the course with F.I.T I decided to also invest in my makeup artistry. Taking a master class in airbrush, I'm currently the only artist in Upstate NY offering full face airbrush makeup. Growing as an artist makes me so happy and aside from writing for the magazine, this has also been a very good year for my business as a makeup artist. As a matter of fact "Cristina Rivera Beauty" just won the New York Hair and Beauty Specialist of the Year Award! 
Honestly, I feel blessed to have been able to learn from such incredible people in the beauty world. The chemists, professors, makeup artists, and creators are all so very inspiring! Since I live in upstate NY, writing for a publication like Allure doesn't seem to be in the cards for me but writing in and of itself is. 
My YouTube channel is started and since recently enrolling in a YouTube Experts course, I'm sure it will also grow and become a source and "go-to" for anyone seeking beauty advice and education. 
And there you have it. It's not a groundbreaking story but it is my story. It is a special story to me because it did change my direction. I am busy and fulfilled. I feel like my voice is being heard and my talent recognized. This is in no small part due to Beauty Industry Essentials. 
Thank you for creating such a great opportunity for beauty lovers from all over!  For more information about the Beauty Industry Essentials course, visit yellowbrick.co/beauty.